Tennis Elbow 2011 released on Mac OSX and Tennis Elbow Manager v1.0f released on Windows & Mac OSX
TE2011 just arrived on Mac OSX. For the ones who missed the previous newsletter, here we go again with the same speech ! ;-)
Tennis Elbow 2011 Features :
TE2011 is a huge update of TE2009, as it brings real-time 3D courts in the game, with a complete selection of camera angles !
It also features a good bunch of new outfit options, including new haircuts for both female & male players.
It also updates the players, tournaments & ranking system to 2010.
And last but not least, the gameplay now features an advanced tiredness system. It's optional and you can play with the legacy TE2009 system if you wish so.
Upgrading from Tennis Elbow 2009 :
Best of all, all registered TE2009 users can enjoy TE2011 for free, except for the 3D courts. If you already have a License Key for TE2009, then you can upgrade it for only US$9.95 / EUR7.5, and enjoy the 3D courts ; to do so, go here :
www.managames.com/tennis/promo2009_en/
Moreover, if you bought TE2009 since last May 20th then your License Key is already compatible with TE2011. And if you bought it since last April 1st, then your License Key has been upgraded for free to TE2011 ; in such case, download the Key Register again from your License Key email to activate your full version of TE2011.
If you have a TE2009 License Key and want to try out the 3D courts before to upgrade, you can do so by deleting your License Key, or installing TE2011 in a new folder, so it'll be in Demo mode.
Screenshots of all 3D courts available here :
www.managames.com/tennis/screenshot_en.html
/!\ Note : TE2011 saved games are not compatible with TE2009's ones; so you should either finish your current game before installing TE2011, or install it in a new folder.
Download link :
Tennis Elbow Manager 1.0f for Windows & Mac OSX :
Here a little but (almost) indispensable update for Tennis Elbow Manager, free for everybody who already bought it, as usually.
The list of additions and changes :
New features :
- Green Clay Court
- Year 2025 added, so you can start your career in 2010
Changes :
- Updated players, tournaments & ranking system for 2010
Bug Fixes :
- Your doubles partner should now play more often in Singles
/!\ Note for Mac OSX users : when you update to a newer version, you have to transfer the "Profiles" subfolder from your previous TEM's directory to the new installation folder to keep your saved games.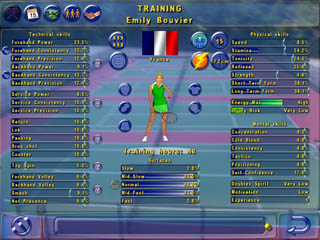 Last Note :
Thanks to all people filling out the survey and writing some nice comments about the games ; it's really cheering up ! :-)
Best Regards,
Mana Games