Tennis Elbow Manager 1.0c for Windows & Mac OSX :
Here an important update for Tennis Elbow Manager, free for everybody who already bought it, as usually.
The list of additions and changes :
New features :
- Qualifying : when you cannot enter a Qualifying draw because it's already full, now you can choose to enter any other Qualifying draw which isn't full
- Career Titles : Davis Cup wins are displayed
- Coached Players : can swap order of the additional coached players (from the contract screen)
- Show current training or tournament surface on left of Surface Skills
- Planning : the weeks your player will still be injured have a red background
- Planning : latest results are outlined in blue, so you can know what tournaments you played in the past 52 weeks ; roll over to see the round reached in the help bar
Changes :
- Double partner : better handling to select other coached players
- Double partner : the list to select the double partner doesn't contain players too high ranked in singles anymore
- Planning : if you register for a 2-week tournament, you cannot enter another tournament taking place on the 2nd week of the 1st tournament
- Better information messages for Wildcard & Missed Qualifying
- Injury : shortest injury can last 1 day instead of 1 week
- Practice with other players : the closest player in strength is now automatically chosen when you get the player list
- US Open: Tie Break in 5th set
Bug Fixes :
- The Match Tactic could be unwillingly changed when practicing with other players, when you had more than 1 coached player
- Wildcard for Coached Players are correctly shown on the Draws
- A few other bugs fixed
Even more changes have been done since the initial release of the version 1.0b ; to see the complete list, have a look there : www.managames.com/Forum/ftopic1103.php .
/!\ Note for Mac OSX users : when you update to a newer version, you have to transfer the "Profiles" subfolder from your previous TEM's directory to the new installation folder to keep your saved games.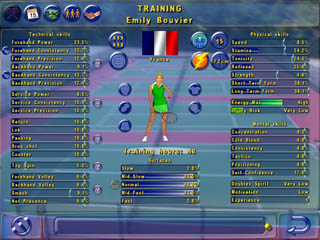 Tennis Elbow 2006 1.0b for Mac OSX, and update for the Windows version :
The latest version of Tennis Elbow 2006 lets you do winners more easily against CPU players, especially in the lowest difficulty levels (ie: Beginner, Club & Junior). So if you tried the game a few months back and thought it was a bit too hard, you should give it a try again now..!