Tennis Elbow Manager 1.0b for Windows & Mac OSX :
Here a big update for Tennis Elbow Manager, free for everybody who already bought it, as usually.
The list of additions and changes :
New features :
- All Tournaments are now saved during the 16 years of your game, and you can consult the draw of each one !
- You can see the Head To Heads, with every match detailed
- Statistics of the match available on match end
- Summary of all contracts with the additional players, including a short description for each one
- Ranking points per round displayed on the Tournament Draw
- Additional congratulation milestones : Top 500, 200, 50, 20
- Cold Blood Skill is now needed in important matches (example: final of a Grand Slam) to avoid stress
- You can now cancel a registration for a tournament only 2 or 3 weeks ahead, by paying a cancellation fee
- You can now load your saved games when playing the trial version
- New language : translated to Dutch by Niels
Changes :
- Women Tour : a few players deleted, added & slightly changed
- Men & Women Tour : rankings updated with the beginning of 2008
- Top Spin has now a strong bonus/handicap on slow/fast surfaces ; more explanation in the documentation
- Saved game size reduced from 25MB to 15MB
Bug Fixes :
- a few bugs fixed
/!\ Warning : due to important additions, your previously saved games aren't compatible with this new version. Therefore, you should finish your current game before installing this new version.
Moreover, the saved games aren't compatible between PPC Mac & Intel Mac, but are compatible between Intel Mac and Windows PC.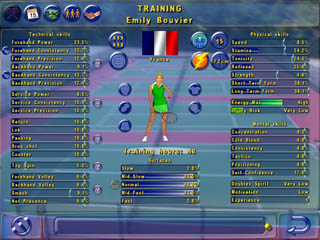 Best wishes for 2008 from Mana Games.
Subscribe / Unsubscribe newsletter :