1 - Tennis Elbow 2006 for Mac OSX :
Thanks to all people who purchased the 1st version of Tennis Elbow on Mac OSX, it has been possible to port Tennis Elbow 2006 as well !
So, as promised, if you bought TeMac, you should have now received your free key for TE2006 Mac to the email address used during your TeMac order. If you didn't receive it, check your spam folder, and then contact us by clicking here.
2 - Tennis Elbow Manager for Mac OSX :
After have been released for Windows PC on last April, Tennis Elbow Manager is now coming on Mac OSX !
Become a tennis coach and manage up to 4 tennis players : take care of training sessions, planning, sponsors, team members, the match tactics, and more !
Will you be able to lead your players to the top of the world hierarchy ?
Tennis Elbow Manager features 3000 players evolving other 33 years, from 1990 to 2022, competing in more than 300 tournaments per year, both in singles and doubles !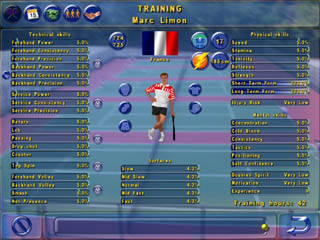 More info (Windows & Mac OSX versions):
http://www.managames.com/tennismanager/tennisgame.html
3 - Discount on Tennis Elbow 2004 for Windows & Mac OSX :
Both versions are now available for only USD12.50 / EUR9.50 .
Tennis Elbow 2004 doesn't need a 3D card and needs less resources to run, therefore, you can play it on older computers.
Demo for Windows : http://www.managames.com/predownload_en.php?f=TE2004.exe (~6MB)
Demo for Mac OSX : http://www.managames.com/predownload_en.php?f=Te2004-Mac.zip (~10MB)