Tennis Elbow Manager released !
Become a tennis coach and manage up to 4 tennis players : take care of training sessions, planning, sponsors, team members, the match tactics, and more !
Will you be able to lead your players to the top of the world hierarchy ?
Tennis Elbow Manager features 3000 players evolving other 33 years, from 1990 to 2022, competing in more than 300 tournaments per year, both in singles and doubles !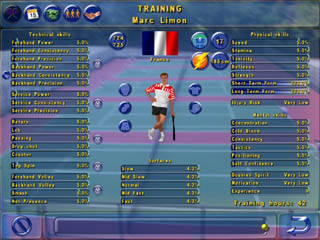 More info:
http://www.managames.com/tennismanager/tennisgame.html
Did you already purchase Tennis Elbow 2006 ?
Then you can have up to 15% discount on Tennis Elbow Manager, only by answering the few questions here :
http://www.managames.com/tennismanager/promo_en
Note: if possible, please buy our games using Paypal instead of BMT Micro ; both accept credit cards.
Note for Mac OSX users :
Tennis Elbow 2006 and Tennis Elbow Manager should arrive on Mac OSX around next July.
Best regards,
Mana Games