Hi everyone

The 2014 WTA season is over

but the WTAMOD2014 is here so you can relive it again.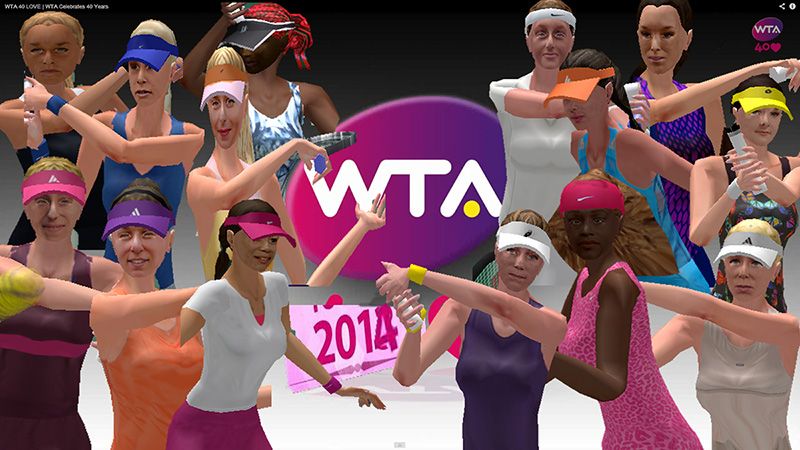 Here is the download. (In a few cases extracting the .zip file takes a few tries, so if it doesn't work first try keep trying)
https://mega.co.nz/#!YF8xSLQZ!xIjt3su5y ... 6OU7YQuRF4
What's new?
*Hundreds of outfits from the 2014 season. Made by myself, linaroger, bessmitzewis, Chez & Kvits95. Thanks so much for your help guys!
*All WTA 2014 courts (many new & many with outside courts) and heaps of new ITF courts. Made by myself, Infernal18, linaroger, Spencer and others! Thanks guys
*Some new grunts by Miharu & Depla
*All tournaments now have custom huds
*Entire WTA top 800 now modded.
*Nicole Vaidisova!
*Updates rankings and realistic player schedules
WTAMOD 2014 INSTRUCTIONS
Before installing the new WTAMOD2014 version, please ensure you have updated to the latest version of TennisElbow2013 (version 1.0e) Otherwise the mod will not operate properly.
Please be aware that the WTAMOD2014 is simply an expansion pack of the original WTAMOD. It is only designed to play the 2014 season. You can do this by
Choosing the "One season" Option in career mode and choosing 2014.
OR
The 2014 mod is designed to continue your career from the original 2011-2013 version (Will explain later on)
STEPS
1. Download the WTAMOD2014.zip file
2. Extract the .zip file and place the WTAMOD2014 inside the Mods folder of your TennisElbow2013 folder. (Alongside the original WTAMOD folder)
3. Download this fixed file
https://www.mediafire.com/?tuf2ub2cc4renvc
(as some ranking points issues were present) and put it in WTAMOD2014>Data folder (replace)
3. To run the game, open the mods.ini text file located in your TennisElbow2013 folder.
4. Note this section: It should say this.
[Mod]
BasePath = Mods
Load = <All>
Profile = <None>
Because you now have two mods (WTAMOD & WTAMOD2014) in your mods folder- this is how the game engine loads the correct one.
To play the 2014 mod CHANGE the above section to:
[Mod]
BasePath = Mods
Load = WTAMOD2014
Profile = <None>
Now the game will load the new 2014 Mod to play the 2014 season (you can sill play older seasons with it but outfit changes and correct WTA Calendar will not occur)
Then if you want to go back and play the original 2011-2013 seasons -
[Mod]
BasePath = Mods
Load = WTAMOD
Profile = <None>
So for instance if you are playing the original 2011-2013 mod and finish the 2013 season, simply go to mods.ini and load the WTAMOD2014 version, and it will continue your career - but using the 2014 mod with correct outfits and tournaments.
5. Now run the game!
Troubleshooting

* Remember this mod series only uses 2D courts, so ensure that in video options it says "3d court off" Ohterwise you will get Bug 531 with a white court.
* There are some issues at the moment with aspect ratio's that result in court lines not lining up correctly, there isn't an official fix to this yet - however its quite simple to solve. (example here in the picture)
Usually this won't occur if immediately after running the game you maximise the screen. But if it does
Simply put your cursor on the right bottom hand corner of the game, and drag it inwards and then back out again - and it should work. Alternatively exiting the game and restarting also works.
PLEASE AVOID ADDRESSING THESE ISSUES IN THE THREAD TO SAVE MY TIME AND YOURS!
* I have made this exclusively a singles mod. Doubles is a bit of a mess, but because i personally have no interest in doubles I preferred to invest my time in singles.
* Please be aware that in WTAMOD only 2011-2013 season are modded and in WTA2014MOD only 2014 season. Playing outside of these years will result in unmodded players. I would say 80% of people who report the mod "not working" are because they are playing outside of these years.
* Please install via the mods folders as I have specified above, trying to replace folders in the main directory can cause problems and its not designed to work that way. I won't be help responsible or be able to help if you try to do it any way other than the mods folder.
Enjoy everyone! Over the next few months i'll be re-working the 2011-2013 mod and adding the Olympics and other tournaments to them, as well as assigning default outfits and some very basic modding of years pre 2011 for those of you who like to play before then.