Hello,
Tennis Elbow 2011 v1.0f is released (Build 90-2011.8.30) :
https://www.managames.com/download.php?TE2011_fe10f.exe
~37MB [Permanent direct download link to the latest version]
http://toogame.free.fr/Files/TennisElbow2011.exe
[Mirror site for people having corrupted download from managames.com - but not up to date all the time]
Patch for all versions since v1.0d Build 80 => 1.0f Build 96 - SubBuild 2012.12.17 :
(download the Patch if you don't want to download the Demo again)
https://www.managames.com/download.php?TE2011-Patch.exe
~6MB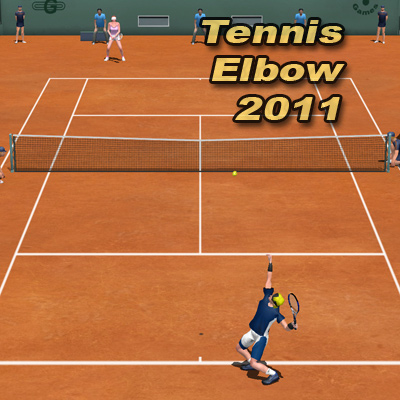 New Features :
- New Strike Styles & Return Stances : another bunch of animations created by
Lucian86, m4n4c0r & Jaydraco
have been integrated to the game !
- Outfit : you can now change your racket strings color & choose your string logo independently from your racket type
- World Tour : in Season mode, you can now continue to the next season, if you played a total of less than 16 seasons
(1)
- World Tour : Early Ball hit talent implemented for the CPU players (only 3 players in the original male players database have this talent)
- World Tour : Auto-Retrain button in the Training screen ; this allows you to automatically retrain your lost skills since the last training session (if you have enough Experience points & Training hours available)
- Gameplay : the new Auto-step back feature makes you start to run in the opposite direction a tiny bit faster ; this is especially useful if you use a gamepad that is slow to change left/right direction, but has low effect for players with a good keyboard
(2)
- .Dmo Recording : can now be buffered in case it slows down your PC while recording ; it'll then record at each end of point ; use "AutoRecord = 2" instead of "1" to set the buffered mode
- Modding : separate animation for acceleration (Modders: more information in the animation topic soon

)
- Modding : Max Players Per Country can be set in the Tour.ini in each tournament section using "MaxPlrPerCountry = 2" (for example) ; works only for Singles
- Online : experimental Reputation system ! Now, at the end of the match, you can vote to tell about your opponent behavior & improve or lower his reputation ; the Reputation is shown in the server list & in the connection screen, allowing to avoid players with bad reputation (3)
- Gameplay : new combo strike => half-lobbing slice : to do it press B2 then B2+down then B2 ; it's a poorly defensive, very slow & inaccurate and somewhat high slice, which can give you some time to replace yourself (and get destroyed on your next opponent strike

)
Changes :
- Gameplay : Arcade controls allow to faster change of direction when running
- Gameplay : more accurate hit zone when hitting the ball to the side or the back of your body
- Gameplay : players rest a lot faster their overall energy when it's nearly depleted
- Gameplay : your player cannot move for a few milliseconds after you hit the ball
(4)
- Gameplay : CPU returns a bit less effectively
- Gameplay : when running & turning by less than 1/16th ( = 22.5°), significantly less speed is lost
- AI : CPU has less chances to go back to baseline after doing a volley near the service line
- Animation : victory gesture is rotated if the player stands too close of the net
- Animation : animation position tuned when running & strike animation contains movement information (this should make easier to position your player while running with such strike animation)
- World Tour : seeds are shuffled in same way than real life
Bug Fixes:
- Animation : the slice animation for the wrong side could be started when the CPU was standing a bit before the incoming ball bounce
- World Tour : control type (ie: Simulation / Arcade / Elite) wasn't correctly saved when exporting players to the Training Club
Notes :
- Changelog of previous versions is here :
topic15-7450.php
- Mac OSX version will be released before end of next week
- (1) : if you started a season with v1.0e & go on with v1.0f, then the proposed new rank at end of season may be incorrect
- (2) : with a good keyboard, you need around 30-50 milliseconds to press the left key after stopping to press the right one ; with a gamepad, this time can go up to 100-150ms ; and with a joystick a lot more than that ; the Auto-step back considers you start to press left just after you unpressed right when the ball is going to your left (and vice versa from left to right) ; this feature makes the game more fair as it removes a disadvantage of playing with a gamepad
- (3) : this is totally experimental and will likely be tuned in the future ; let me know your impressions about it !
- (4) : good online players start to run around 100ms after they have struck the ball ; you cannot move your player for less than this time for safe & normal strike, and a bit above it for attack strikes
- Comments :
topic15-9022.php
Important Note :
Post in this topic only if it's related to the latest new Version / Build, ie only for these 2 cases :
- about a point listed in the New Features / Changes / Bug Fixes
- about a bug that you are sure didn't happen in the previous version but happens in the new one (else, post in the "Bug Report" forum)
Do not write about anything else,
else I may delete your post without any prior warning
(or at very least, I won't answer it) ; if you're not sure your topic is related or not to the latest version, just create a new topic in the forum, it'll be fine...
Also on a side note, don't send me PM ( = Private Message) except for Private thing. Everything that can be read by everybody should be pointed out / asked in the forum, so my comments & answers could also be read by everybody, and hopefully, I won't have to write them again when someone else will have the same comments / questions...