Hello,
Tennis Elbow 2013 is released (Build 97-2013.1.24) :
http://www.managames.com/download.php?TE2013_fe10.exe
~40MB [Permanent direct download link to the latest version]
http://toogame.free.fr/Files/TennisElbow2013.exe
[Mirror site for people having corrupted download from managames.com - but not up to date all the time]
Patch for all demo versions since TE2011 v1.0f Build 90 => TE2013 v1.0 Build 99 - SubBuild 2013.4.15 :
(download the Patch if you don't want to download the Demo again)
http://www.managames.com/download.php?TE2013-Patch.exe
~4MB
/!\Warning:
- TE2013 saved games are not compatible with TE2011's one ; so you should either finish your current game before installing TE2013, or install it in a new folder
- Your TE2011 Key is compatible with TE2013, just install it in TE2013 folder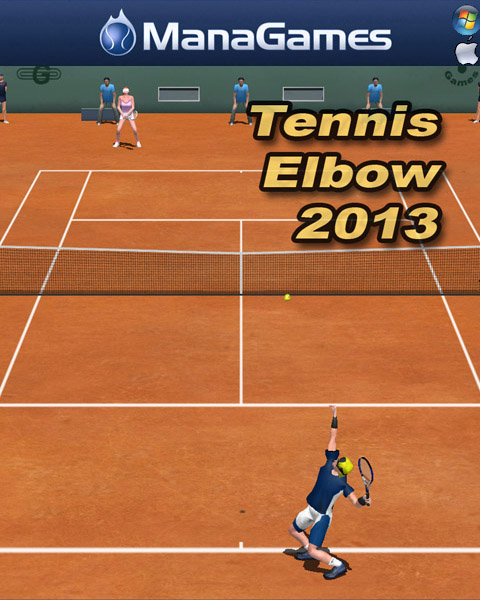 New Features :
- Outfits : a bunch of new outfits for men & women designed by Dilima & Torto ! (and you can find a lot more of their creations in the Modding Forum

)
- Tour Bases : men & women player bases & Tournament calendars have been rebuilt from scratch and updated to 2013 !
- Training Club : "Continue Later" option for matches in the Training Club (available from the "Give Up" screen)
- Instant Stats : number of drop shot & volley drop shot winners
- Online : more preset quick chat sentences, available through Preset Chat Key #2
- Modding : can have up to 65536 models instead of 256 for all outfits !
- Modding : can specify the "Outfit" entry to load for the player base (useful to use the different outfit codes with Sam's Patch)
- Modding : can specify the weeks the players were not on the Tour (ie: injured) in the Player base
Changes :
- Gameplay : strikes are now a bit more tiring when power is above stamina, and a bit less tiring when power is below stamina, especially on acceleration
- Gameplay : short slice combo is now : slice -> drop shot -> slice
- Gameplay : short slice forehand is slightly less short
- Gameplay : maximum average serve speed raised by 1%
- Online : CRC calculation modified
- IA : CPU serve position is now a bit more far from center in doubles
- IA : CPU will now always try to do a passing or lob when his opponent stands near the net (instead of doing some normal shot in the middle)
- IA : CPU is now less likely to do a dropshot when his opponent runs back a bit
Bug Fixes:
- System : .exe isn't flagged as DEP compatible anymore, this should prevent a direct crash when launching the game in a DEP environment
Notes :
- Changelog of previous versions is here :
topic15-9021.php
- Mac OSX version will be released soon
- Comments :
topic15-10522.php
Important Note :
Post in this topic only if it's related to the latest new Version / Build, ie only for these 2 cases :
- about a point listed in the New Features / Changes / Bug Fixes
- about a bug that you are sure didn't happen in the previous version but happens in the new one (else, post in the "Bug Report" forum)
Do not write about anything else,
else I may delete your post without any prior warning
(or at very least, I won't answer it) ; if you're not sure your topic is related or not to the latest version, just create a new topic in the forum, it'll be fine...
Also on a side note, don't send me PM ( = Private Message) except for Private thing. Everything that can be read by everybody should be pointed out / asked in the forum, so my comments & answers could also be read by everybody, and hopefully, I won't have to write them again when someone else will have the same comments / questions...